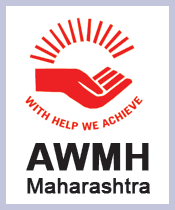 Association for the Welfare of Persons with a Mental Handicap in Maharashtra (AWMH)
Bmc Marathi Primary School Bldg., 1st Floor, Khetwadi, 1st Lane, Behind Alankar Cinema, Mumbai, Maharashtra, India, 400004
Email: awmh@rediffmail.com
Website: www.awmh.in

Charity Bib Status: Sold out

About NGO:
Association for the Welfare of the Persons With a Mental Handicap in Maharashtra (AWMH Maharashtra) is a Non - Governmental, Not for Profit Organization - a Parents' Association, working for the Welfare and Rehabilitation of the mentally challenged persons since 1974.
We run the First and Biggest Early Intervention Research Project in India for the new born infants and children upto 6 years of age.
Our next important project is to promote and encourage Sports Activities among Special Children to build up their Self-Confidence, Sociability and Personality.
In order to help the Adult Special Persons to be trained in Vocational Activities and utilize their time in gainful activities, we run a Vocational Training and Activities Centre.
We also run a Recreational Activity Centre for the Adults Special Persons, where they are trained in Yoga, Housekeeping, Hospitality, Self-advocacy etc. and leisure activities.
Fund Usage:

Sports Activities help persons with Intellectual & Developmental Disabilities to develop their health, personality, self-confidence, human relationship and social behavior. The Marathon donation will be used for our Sports Activities / Cricket / Table Tennis / Basketball Tournaments for all Special Schools and Residential Homes. AWMH provides free accommodation, Breakfast, Lunch & Dinner to outstation participants and the accompanying teachers for 3 days.
Free Breakfast and Lunch are provided to all the participants, teachers, parents and sports officials for 2 days of the Tournaments. More students will be covered for the week-end sports centre. Free Sports Kit for Cricket, Volleyball, Basketball, Badminton, Table Tennis etc. is provided to 2 Special Schools from Rural Area.
Impact:
AWMH Maharashtra runs a weekend training programme for special schools in Mumbai at Malad Recreation Sports Center. Around 40 children from suburb and city school are a part of this training programme. This programme runs on Saturday and Sunday between 11.00 a.m. to 1.00 p.m. This programme is designed for their fitness and recreational activities such as Basketball, Table Tennis, Skating and Cricket. This year four children were selected in the National Team to represent India for the World Special Olympic Games held at Athens, Greece in June 2011. Shrikant Rane won 1 gold 1 silver in skating, Shailesh Bhaumik won gold in Basketball & Amruta Mirazkar won Bronze in Volleyball.
Page Url :
http://www.unitedwaymumbai.org/ngo63_awmh_maharashtra.htm
Online donations are now closed for SCMM'13'
Founded Year:
1974
Cause category: Disability
You can raise funds by placing this donation widget on your web page or blog. Please click on the image.