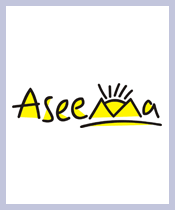 Aseema Charitable Trust
G 3 Josephine Apartments, Ground Floor, Chimbai Road, Bandra (west), Mumbai, Maharashtra, India, 400050
Email: donors@aseema.org
Website: www.aseema.org

Charity Bib Status: Sold out

About NGO:
Aseema Charitable Trust is a Mumbai-based NGO committed to protecting and promoting the rights of underprivileged children. Since 1997, we have been working with children in extremely vulnerable circumstances and offering them a high quality of education. At present, Aseema operates the education programme in three municipal schools in Mumbai catering to over 1300 students from Pre-Primary up to Std. X. In addition, we run an evening Support Centre which offers academic and vocational support to 55 children after school hours. In Igatpuri, we also run an Education Centre for 120 Tribal Children in the remote village of Awalkheda.
At Aseema every child is treated with love and respect and is made to feel that he or she matters. Education extends beyond the classroom with activities like art, music, drama, computers, judo and sports, and through these activities the children get a chance to explore their full potential.
Today, we are proud to see our children develop a zeal for learning and a strong sense of values and responsibility.
Fund Usage:

About 4.5 lakh children study in municipal schools in Mumbai. While the children may avail of free education in government schools, the facilities provided leave a lot to be desired. Shortage of skilled teachers, traditional methods of teaching, dull and uninspiring school environments lead to children dropping out of school. Children in Igatpuri face similar problems albeit on a larger scale. Through partnership with the MCGM in Mumbai and establishment of an Education Centre for tribal children in Igatpuri, Aseema creates a child friendly approach, which makes the learning environment stimulating and safe and creates a culture that respects the child and promotes learning.
In a school supported by Aseema, the state curriculum is taught in a way that makes it meaningful and fun. Co-curricular activities such as art, music, judo, sports, yoga, dance, cinema and theatre encourage expression and creativity. Student participation and parent involvement are inherent to the learning process and every effort is made to ensure that the child receives all that s/he needs to grow.
Support of Aseema at the Mumbai Marathon 2013 will empower underprivileged children with a strong education.
Impact:
"I feel Aseema means a place where there is love and education and different activities for all children equally".
- Soliya, 12 years
Twelve year old Soliya Qureshi is the daughter of a rickshaw driver. She joined Aseema when she was only four years old and is currently a student of a municipal supported by Aseema. Soliya's family lives in difficult circumstances in a slum community. While their home faces frequent threat of demolition, Soliya and her siblings witness the harsh realities of life in a slum. In spite of lack of water and poor sanitation, Soliya ensures she is neatly dressed in school every day. She values education and wants to make the most of her time in the school.
She is a bright girl and has a vivid imagination. In addition to writing 'scripts' and directing plays, Soliya enjoys reading! Inspired by the Library at Aseema, Soliya started a small library in her community when she was 10 years old. Soliya gratefully took home books given by Aseema and maintained a careful log of all that she had. She then encouraged children in her community to come and borrow the books and would help them read as well.
Page Url :
http://www.unitedwaymumbai.org/ngo5_aseema.htm
Online donations are now closed for SCMM'13'
Founded Year:
1995
Cause category: Education
Our Supporters
You can raise funds by placing this donation widget on your web page or blog. Please click on the image.