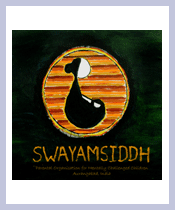 Swayamsiddh Matimand Mulansathi Matrupalak Sanstha
9/5, Dhiraj, Vrindavan Society, Shri Hind Chsl, N. S. Mankikar Road, Chunabhatti, Mumbai, Maharashtra, India, 400022
Email: EVENTS@SWAYAMSIDDH.ORG
Website: www.swayamsiddh.org

Charity Bib Status: Not available

About NGO:
Swayamsiddh was started in year 2001 by mother-parents of children with various mental disabilities.due to unavailability of good educational, medical and other facilities for their children, they took it upon themselves to provide the facilities for not only their children, but to all such children who needed such care.
The parents came together, formed a society and started a school.
The primary focus of swayamsiddh is to provide proper educational and vocational training to children with mental disabilities. Other facilities offered are state of the art physiotherapy centre and speech therapy. These are extremely important for the child's development. Education is provided using various teaching aids & physical activities. All activities are conducted under the guidance of special educators and specialists as required.
Fund Usage:

to purchase teaching aids, physiotherapy, vocational training equipment and to build a swimming pool complex.
Teaching Aids: the children absorb educational inputs faster by looking at pictures or by using aids like say building blocks, abacus, colours, etc.
Physiotherapy Equipment: this helps build the child's motor responses and muscle control through the different exercises possible using the equipment. Many children who were unable to walk or maybe hold a pencil properly has benefited from these exercises.
Vocational Training Equipment: this equipment is used to give vocational training to the children as per their individual abilities. This is a very important part of our all round education as this not only generates self confidence in the child but also gives the child an opportunity to be able to be self sufficient and independent by giving him a source of livelihood.
Swimming Pool Complex: swimming is a very important tool of physiotherapy and will help a lot in developing motor and muscle control in the legs. This facility will be available absolutely free of charge to children of other similar institutions in and around Aurangabad.
Impact:
Age: 13 years
Year of Admission: 2009
Medical Condition: Cerebral Palsy and Mentally Retarted.
2009: He was a very quiet child and not ready to go to school. His speech was not clear, could not complete a sentence and had problems of drooling. He did not have a firm grip and couldn't even hold a pencil.
2010: He loves coming to school, sitting in the class and interacting with his co-students and teachers. There is a drastic improvement in his speech in terms of speech clarity because of the speech therapy. His hand grip has improved and is able to write few numbers. He talks to his friends confidently and takes part in all the activities. He is a much lively person now and likes to mix with others. He took part in the school story telling competition and won the 2nd prize, a great achievement.
Page Url :
http://www.unitedwaymumbai.org/ngo53_swayamsiddh.htm
Online donations are now closed for SCMM'13'
Founded Year:
2001
Cause category: Disability
You can raise funds by placing this donation widget on your web page or blog. Please click on the image.