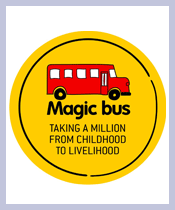 Magic Bus India Foundation
Room 5, Ii Floor, A Wing, Todi Estate, Sunmills Compound,  Lower Parel,, Mumbai, Maharashtra, India, 400013
Founded Year: 2001
Cause category: Children
Telephone: 22-43339393
Charity Bib Status:
Not Available
About NGO:
We train and guide local, community-based, mentors to deliver a long term programme that focuses on education, health and gender equity. The programme enables young people to have more choice and control in their lives so they can move out of poverty. We do this by using a comprehensive curriculum that uses sport as a metaphor and is delivered using a child-friendly mentoring approach. This creates proven behaviour change.
Every participant on the programme is offered our livelihood programme, Connect, which offers a chance to enroll in higher studies, or job placements with reputed companies. As a result of our work, more than 250,000 children and youth are today accessing better education, improving their health situation, displaying more gender-equal behaviour and working towards strong livelihood options as adults.
Fundraisers supporting this NGO:


Fund Usage:

Be a part of the Loudest Cheer in the World
Cheering which rises every time you take a step!
Cheering which is wild and roaring, uncontrollable and contagious.
We salute your commitment to bring about a social change through participation at Standard Chartered Mumbai Marathon. This year, once again we urge you to be a part of the biggest philanthropic cheering frenzy of Asia and run for the cause of Magic Bus children & youth. Magic Bus is the largest mentoring organization in India delivering its program to under-privileged children every week through 8000 community youth leaders in 19 states of India. Over the last 15 years, we have garnered support from over 50 companies globally. To read about these enriching partnerships please click http://magicbus.org/partners. While we started with 30 children in 1999, in our 15th year we are benefiting 2, 50,000 children and aim to reach 1 Million children by 2015. Our goal for the Standard Chartered Mumbai Marathon 2015 is to partner with you to reach out to children living in some of India's poorest areas in their journey from childhood to livelihood. Give us 5 minutes of your time to know about our award winning curriculum on http://www.youtube.com/watch?v=ONP0rJJAu1g
Impact:
Parvati Pujari, 21, is completing a Bachelor's degree in Commerce from Mumbai University. She is also working as a community leader for Magic Bus and training to be a football coach.
What makes all this special is that Parvati is from one of Mumbai's 4 million extremely poor families that live on less than 592 per person, per month. Her parents were constructions workers, helping build a five star Mall in central Mumbai. They live in a shed that floods every monsoon. "We mostly make do with khichdi," Parvati says.
What created change was Parvati's belief in her power to change her own, and her family's future by making sure she used every opportunity that was available in the system, but not fully utilised. Parvati started attending Magic Bus sessions form the age of 9 and completed school as her friends got married off as child brides. While her peers were struggling with premature pregnancies, Parvati was taking activity-and sport-based coaching classes for younger children, joining a job, working on her football course, and travelling abroad to raise funds for Magic Bus. Through her experience with Magic Bus, Parvati has shown that it is possible to break out of poverty.