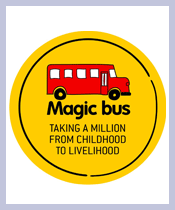 Magic Bus India Foundation
2nd Floor, Room No. 5, Todi Estate, Sun Mill Compound, Lower Parel, Mumbai, Maharashtra, India, 400013
Email: reshmahawa@magicbusindia.org / bhushan@magicbusindia.org
Website: www.magicbusindia.org

Charity Bib Status: Sold out

About NGO:
Organization Activities
Our mentoring programme begins when a child is 8 years old, follows their journey from childhood to livelihood through weekly sessions. The curriculum we deliver has its grounding in academic research. Sporting activities and games are structured into each session to make them fun and appealing to our children. Sessions are designed to represent real-life situations and challenges so children are able to relate these back to their daily lives. A typical Magic Bus session lasts for 2 hours and is divided into 3 parts: Warm up: The development goal is introduced using interactive activities Main Activity: The development goal is reinforced using sports and activities Review: A discussion is facilitated to draw parallels to real-life situations and sum up the learning objectives.
Beneficiary Groups
Our sport for development programmes are targeted at 8-16 year olds living in poverty. We train youth (17+ years) in the same communities as volunteer coaches who then become role models and mentors to the younger children.
Fund Usage:

Initiated in the year 1999, Magic Bus is a registered Indian NGO (u/s 25 of the companies Act) provides community role models to all its children who ensure equal access to education and health services. Its eight year mentoring programme connects confident young people directly into the workplace, higher education or training opportunities.
Fund Utilization: Your donation will be utilized in delivering a high-quality mentoring programme which includes activity-and sport-based learning curriculum to 200,000 children across some of India's poorest areas- villages and slums. A small part of your money will also go towards keeping our operations up and running.
Monitoring & Evaluation: Magic Bus uses some of the most sophisticated measurement tools that allows us to track impact as it happens. We also follow rigorous financial and other housekeeping norms that manage quality and ensure excellence. Contact us to know more. Magic Bus uses some of the most sophisticated measurement tools that allows us to track impact as it happens. We also follow rigorous financial and other housekeeping norms that manage quality and ensure excellence.
The Impact You would create: Your support will reach out to children from some of India's most marginalised and poor neighbourhoods have access to a curriculum that helps them develop their social and emotional skills to a degree which will enable them to break the cycle of poverty
Tax Benefits: All donations to Magic Bus are 50% exempt from tax under section 80G.
Our Achievements:
We have created change for 200,000 children and 7,000 youth leaders
Health: 7 in 10 Magic Bus children improve their health, fitness and nutrition levels
Gender: 4 in 10 Magic Bus children are girls. 40% of the volunteer mentors are women
Education: 7 in 10 Magic Bus children, who have dropped out, re-enroll and stay in school
Livelihood: 85% of Magic Bus youth enroll in our employability programme, Connect. 90% of these youth are in further education.
Impact:
"Breaking the Poverty Chain"
Parvati Pujari, 21, is a college student completing a Bachelor's degree in Commerce from Mumbai University. When she is not studying, she is working as a community leader for Magic Bus or training to be a football coach.
What makes all this special is that Parvati is from one of Mumbai's 4 million extremely poor families that live on less than 592 ($ 11.9) per person, per month. Her parents were constructions workers in Mumbai, helping build a five star Mall in central Mumbai. Once construction was completed, they were moved into one 8 x 12 feet temporary room which floods every monsoon. "Our living condition is such that we get to see all seasons at close quarters," laughs Parvati. Parvati's family consists of nine people, making it difficult to make sure everyone gets enough to eat. "We mostly make do with khichdi," she says.
What created change for Parvati was the belief in her power to change her own, and her family's future by making sure she used every opportunity that was available in the system, but not fully utilised. Parvati completed school as her friends got married off as child brides. While her peers were struggling with premature pregnancies, Parvati was taking activity-and sport-based coaching classes for younger children, joining a job, working on her football course, and travelling abroad to raise funds for Magic Bus.
Through her experience with Magic Bus, Parvati has shown that it is possible to break out of poverty.
Page Url :
http://www.unitedwaymumbai.org/ngo51_magic_bus.htm
Online donations are now closed for SCMM'13'
Founded Year:
2001
Cause category: Women, Children & Aged
Our Supporters
You can raise funds by placing this donation widget on your web page or blog. Please click on the image.