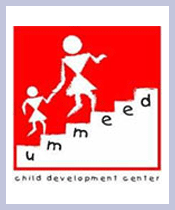 Ummeed Child Development Centre
Ground Floor, Mantri Pride, 1-b, 1/62, N.m. Joshi Marg, Subhash Nagar, Near Chinchpokli Station, Lower Parel, Mumbai, Maharashtra, India, 400011
Email: ummeedcenter@gmail.com
Website: www.ummeed.org

Charity Bib Status: Sold out

About NGO:
Ummeed was founded by Dr. Vibha Krishnamurthy in 2001, seeing the lack of facilities for children with developmental needs. The organisation strives to help children with or at risk of Developmental Disabilities, reach their potential and overcome barriers to inclusion. In addition to providing direct services in assessment and therapy at its clinic, Ummeed also works with schools and community organizations, both in an advisory capacity as well through capacity-building to reach out to populations most at risk for developmental disabilities.
Fund Usage:

HOPE FOR EVERY CHILD -
Ummeed's aim is to help families acknowledge and accept the differences in their child, and help them reach their true potential. Over the years, Ummeed has seen families emerge from the depression of a diagnosis to embrace their child's uniqueness and derive joy from experience of parenthood. Given this, we believe that Ummeed accurately and truly reflects the essence of 'Diversity' through inclusion. Each Year Ummeed conducts around 6500 treatments and builds the Capacity of other NGOs and individuals in helping address this urgent need, which helps extend our reach to another 50,000 children at risk of developmental disabilities.
All funds raised will be used to extend our reach through training community workers and increase our intervention for these Special kids and their families through our clinic.
All donations to Ummeed are tax exempt under section 80G of the Income tax act.
Impact:
Ummeed Child Development Center has raised funds against SCMM since 2004. All funds raised have been used in the following manner :
1) To subsidize care for children with developmental disabilities from lower income families at the Ummeed clinic. Ummeed provides multidisciplinary care including pediatric assessments and therapy to over 1000 children in over 7000 patient visits annually at the clinic. More than 50% of these receive concessions. For children from very low income families, Ummeed collects as little 10% of regular fees.
2) Ummeed runs training programs for teachers, professionals and community workers to increase awareness and care for children with developmental disabilities and their families in communities with very limited access to professional care.
Page Url :
http://www.unitedwaymumbai.org/ngo50_ummeed.htm
Online donations are now closed for SCMM'13'
Founded Year:
2001
Cause category: Disability
Our Supporters
You can raise funds by placing this donation widget on your web page or blog. Please click on the image.