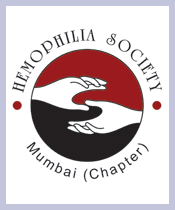 Hemophilia Society Mumbai (Chapter )
205, 2nd Floor, Sai Apartment, 64-b, Swarajya Bhavan Chs., Bhagawan Rao Parelkar Road, Parel Village, Mumbai, Maharashtra, India, 400012
Email: mumbai.hemophilia@gmail.com, mumbai@hemophilia.in
Website: www.hemophilia.in

Charity Bib Status: Not available

About NGO:
Hemophilia is a genetic, life threatening bleeding disorder. In Persons with Hemophilia (PwH) blood does not clot normally due to deficiency or absence of clotting proteins called Factors. PwH tend to bleed internally and externally even with a minor injury. The disease is a lifelong bleeding disorder, incurable in nature and a very expensive to manage in terms of medication and care. Recurrent and prolonged bleeding into joints and muscles can lead to permanent disability. Bleeding from the sensitive organs can lead even to death.
Hemophilia Society Mumbai (Chapter) is affiliated with Hemophilia Federation India. We are working for the welfare of the Persons With Hemophilia. We aim to reach out to PwH and provide total quality care, education, make treatment available at affordable cost, psycho-social support, and economic rehabilitation and thus help them in improving the quality of life without disability and free of pain.
Fund Usage:

1. Creation of Care Centre facility & recruitment of nursing staff to attend hemophilic patient to get better & quick treatment.
2. Carrier detection facility in case of carrier women and prenatal diagnosis to prevent Hemophilic child birth.
3. To build bigger cold storage facility in office for storing factor concentrates stock which are currently stored separately.
Total cost for above project : 70,00,000/-
Impact:
16 Year old Hemophilia patient from Diva Thane Mast. Govind Singh is from poor family background. He has 2 sisters & one brother. His father is Taxi Driver but last 5 months he not able to drive because he is also diabetic patient and his mother is a housewife. He was under treatment at K.E.M. Hospital for abdominal bleed during June'2012. Hemophilia Society Mumbai ( Chapter ) gave free medicine Feiba 6500 Ius. costing Rs. 1,95,000/-. We have also provided other medicines i.e. Hemostat Liquid, Texakind & Robinexol for his fast recovery. He was hospitalized for 20 days. Now he is totally well and is living a normal life.
Person with Hemophilia from remote villages do visit KEM Hospital regularly and often they come with small amount for eg. Rs. 1000/ Rs. 2000. The medicine i.e. Factor / Feiba one time cost is Rs. 9500/- for Factor & Rs. 30,000/- for Feiba. These need to be repeated on case to case basis, based on the type of bleed and seriousness.
Page Url :
http://www.unitedwaymumbai.org/ngo45_hsmc.htm
Online donations are now closed for SCMM'13'
Founded Year:
1994
Cause category: Health
Our Supporters
You can raise funds by placing this donation widget on your web page or blog. Please click on the image.