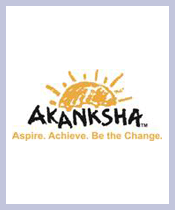 The Akanksha Foundation
Voltas House C, T B Kadam Marg, Chinchpokli, Mumbai, Maharashtra, India, 400033
Email: fundraise@akanksha.org, suparna.nodi@akanksha.org
Website: www.akanksha.org

Charity Bib Status: Sold out

About NGO:
The Akanksha Foundation is a non-profit organization with a mission to impact the lives of children from low-income communities, enabling them to maximize their potential and transform their lives. Akanksha works in the field of education, addressing non-formal education through the Akanksha center and formal education by initiating school reform through The School Project. Currently, Akanksha reaches out to more than 4000 children through two models: the after-school or center model and the school model. Akanksha has 40 centers and 13 schools in Mumbai and Pune. Through the centers, a commitment is made to support each child by providing a strong educational foundation, good time, self-esteem and values, and to help them plan how they can earn a steady livelihood as a step towards improving their standard of living. The School Project is a venture to open high-quality schools serving children from low-income communities in Mumbai and Pune. These schools are in partnership with local municipalities, with the vision of creating small clusters of model schools in these cities that can be used to impact the mainstream education system.
Fund Usage:

All money raised through the marathon will go directly to The School Project. The mission of The School Project is to create a model for high-performing schools that redefines what is possible for children from low-income communities, and has the potential to drive wider systemic reform. Akanksha reaches out to over 2000 students through 13 schools in Mumbai and Pune.
Through The School Project, Akanksha hopes to bring about transformation in three major areas:
1. To prove that every child has the ability to learn and achieve high levels.
2. To show the importance of skilled educators by investing the majority of schools' resources into the recruitment and retention of high quality staff.
3. To catalyze systemic reform by using these schools as learning laboratories to improve quality of education in municipal schools.
The model has been adapted from best practices of high-performing schools around the world and Akanksha's own extensive experience in education gathered over its twenty years of serving some of the poorest slum communities of Mumbai and Pune. Akanksha aims to operate 25% of English-medium municipal schools in Mumbai and Pune by 2016, making it one of the largest school management organizations in either city.
Impact:
Since his childhood Sumeet has been exposed to drugs, alcohol, gambling and innumerable other social ills in the community where he lives. He has seen the struggles of a single parent as he was brought up by his mother singlehandedly. At Akanksha Sumeet not only learnt how to read and write, but also about responsibility and about making informed and correct decisions. Although he failed his 10th standard exam three times, he was able to pick himself up and try one more time. As a part of a part of the social leadership program, a program that asks students to embody Gandhiji's "Be the change" motto, Sumeet started visiting sick children in hospitals. That eventually turned into the NGO Pragati, which he runs. He worked at a social worker at Akanksha to make sure that children from similar conditions can excel in the same way. Akanksha finds the potential in every child, and with Sumeet it encouraged his desire to work with and help others
Page Url :
http://www.unitedwaymumbai.org/ngo43_akanksha.htm
Online donations are now closed for SCMM'13'
Founded Year:
1991
Cause category: Education
Our Supporters
You can raise funds by placing this donation widget on your web page or blog. Please click on the image.