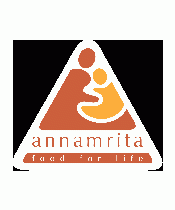 ISKCON FOOD RELIEF FOUNDATION
19, Jaywant Industrial Estate, 63 Tardeo Road, Tardeo, Mumbai, Maharashtra, India, 400034
Email: info@annamrita.org, rkd@annamrita.org, ananta@annamrita.org
Website: www.annamrita.org

Charity Bib Status: Sold out

About NGO:
ISKCON Food Relief Foundation, engaged in distributing meals to underprivileged children in aided and non-aided schools under the brand name 'annamrita'. "Annamrita" means food as pure as nectar. A majority of the population in India is still unable to get even one complete square meal for the day, only because they are stuck in the vicious circle of poverty and illiteracy. Annamrita has resolved to liberate the underprivileged from this vicious cycle by serving children with sanctified food. Imbued with a spiritual ambience in annamrita's hi-tech kitchens, the khichdi prepared nourishes the mind, body and soul alike.
The khichdi is prepared with the highest standards of hygiene and quality ingredients that meet the nutritional requirements of growing children. But most importantly, IFRF mixes a secret ingredient to the khichdi it serves - care, love and compassion that adds an unparalleled taste of purity to the meal.
Today, Annamrita is catering over 12,00,000 meals every day from our 26 kitchen centers across India.
Fund Usage:

With a generous contribution from you we hope to maximize the capacity of this program by setting up more kitchens to cater to more schools and increase the number of beneficiaries many folds. With your support we wish to set up ten more kitchens having the capacity for cooking 50,000 meals. With your support ISKCON Food relief Foundation, would like to increase our reach across India, attracting more and more children to school by providing them high quality, nutritious meals and there by facilitating their education.
Impact:
Jeetu, an eight year boy, lives in the Kherwadi slums of Mumbai. Jeetu's parents are construction laborers who earn about 50-100 Rupees a day. Jeetu has two sisters and a younger brother too. His parents are struggling to feed and clothe their family. They often have to divide meals meant for two among the five of them. To add to their woes, Jeetu's father struggles with alcoholism and often spends the family's already meager income at the local liquor den. In such a situation what would motivate Jeetu's mother to send him to school? Wouldn't she rather have him work and bring some food for the family?
Yet Jeetu is a lucky boy, because his mother does send him to school. She sends not only him, but all her children to school. This is because her children get a hot, nutritious meal at their school daily. ISKCON Food Relief Foundation visits Jeetu's school every single day and provides a high quality lunch to all the children there for free!
There are thousands of Jeetus in India today who are being forced by poverty to give up education earlier and earlier and fend for their living. We cannot reach out to all those Jeetus alone. We need your help.
Page Url :
http://www.unitedwaymumbai.org/ngo42_ifrf.htm
Online donations are now closed for SCMM'13'
Founded Year:
2004
Cause category: Education
Our Supporters
You can raise funds by placing this donation widget on your web page or blog. Please click on the image.