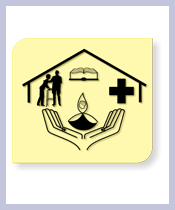 Sangopita - A Shelter for Care
3/16, Sharmili Bldg; Opp.chinar Hotel, Gandhi Chowk, Kharwai Rd; Kulgaon-badlapur (e),, Thane, Maharashtra, India, 421503
Email: info@sangopita.org, sangopita123@gmail.com
Website: www.sangopita.org

Charity Bib Status: Sold out

About NGO:
Managing and bringing up mentally challenged children is one of the most stressful and traumatic experience for their parents. Society in general is unaware of this malady and thus is a neglected facet of the community. Few NGO's have come forward to address this issue and SANGOPITA is one of them.
These children have a very high level of dependency and are to be looked after lifelong. The only course left to the affected family is to institutionalize the child. SANGOPITA founded by such an affected parents provides personalized Care, medication, education, entertainment, therapies and a dignified life to such 70 plus children. Its al is to make them self dependant to the extent possible and try to induce awareness about them in the society and try to accept them a part of society.
Team Sangopita consists of a dormitory in charge, housekeepers, special educators, social workers and CARE providers.
SANGOPITA is situated in the village Bendshil near Badlapur city on the Mumbai Pune track. It runs a residential center (24 hour stay) for severe cases and a Day care center (Spl. School for special children 10 am to 5pm) for mildly affected.
Fund Usage:

Sangopita's value lies in the services it provides to persons with disability. It is amongst the few organizations in India and the only one in Mumbai, catering to and offering lifetime residential care to the severely disabled from the impoverished strata of society. It has been founded and is run by parents of a special needs child and empathises with the trauma, the guilt, the apprehensions, the hopes, dreams and aspirations of parents like them who battle financial struggles while parenting a special needs child. Expenses on these children come higher than a normal child due to medicines, therapies etc. The funds generated through SCMM shall be used for meeting day to day running expenses like Food, Medicines, Special education & giving care through specially trained staff. As a donor, you will be given feedback and a report on the use of your contribution by Sangopita. SANGOPITA depends upon donations from socially committed individuals and corporate/organizations for bridging its deficit between its income and running expenditure. On behalf of our special children we earnestly appeal to you to contribute liberally to this noble cause and be a partner in our efforts to address this much neglected area of social justice. The funds received would be assuredly utilized in meeting the financial needs of these children and their developmental projects. We invite one and all to visit our center personally and critically appraise our efforts.
Impact:
Avantika.
Avantika is an orphan child who was found by the police in the gutters of Nanded city. She was taken up by CSA an organization engaged in social service. On finding that the child is also mentally retarded, She was transferred to SANGOPITA.
A child of 5 years, at the time of admission, she used to have frequent fits, could not stand or walk properly. salivating continuously, eating earth and crying she was very difficult to control.
Post 2 years of stay at SANGOPITA, personal care, medication with affection and love has brought significant improvements . Now her fits are less frequent, she is able to walk properly and attends classes with other children. With overall health improvement, she mingles with other children and displays childish naughtiness. She now requires speech therapy to make her talk properly.
Page Url :
http://www.unitedwaymumbai.org/ngo40_sangopita.htm
Online donations are now closed for SCMM'13'
Founded Year:
2003
Cause category: Disability
Our Supporters
You can raise funds by placing this donation widget on your web page or blog. Please click on the image.