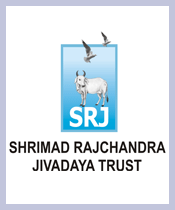 Shrimad Rajchandra Jivadaya Trust
10-b, East Wing, Bombay Market Apts., 78-tardeo Road, Mumbai, Maharashtra, India, 400034
Email: jivadayatrust@shrimadrajchandramission.org
Website: www.Shrimadrajchandramission.org

Charity Bib Status: Sold out

About NGO:
"Shrimad Rajchandra Jivadaya Trust (SRJT) strives not only for rescue and rehabilitation of animals, but also to bring about a paradigm shift of perceiving animals as mere "object of pity" to "friends of man". To this end, some of SRJT's activities are:
Animal Rescue: Thousands of animals are rescued every year from getting slaughtered and are rehabilitated at various animal shelters. SRJT also provides financial assistance to many of these animal shelters.
Shrimad Rajchandra Jivamaitradham Gaushala: This Gaushala aims at not just providing shelter to cattle, but also to foster feelings of love and friendship for them.Programs such as "Gwala for a Day" and practices such as animal-friendly milking methods etc. makes this gaushala a source of motivation.
Ahimsa Awareness Programs: Awareness campaigns are training programs realted to saving the environment and to spread the message of non-violence are undertaken
Cattle Rehabilitation Program: SRJT has initiated a unique program of rehabilitating cattle with poor farmers, thus reducing burden on panjrapoles, ensuring safety of the animal and support to the farmer. SRJT regularly visits and keeps a check on the health and state of the cattle.
Medical Outreach Programs: On a regular basis, veterinary professionals visit internal villages to provide preventive care, tier-one medical treatment, vaccinations and general awareness on animal hygiene."
Fund Usage:

"Presently, the state of animals is indeed pitiable. While some are slaughtered for momentary pleasures of man, others perish due to a general lack of knowledge and awareness. SRJT aims to turn this sorry state of affairs on its head through its programs:

Animal Rescue: SRJT aims at intensifying its drives to rescue animals from slaughterhouses. Also, SRJT will be increasing the financial assistance to the said panjrapoles to ensure welfare of rescued animals.
Medical Outreach Programs: SRJT will be spreading the expanse of coverage of its Medical Outreach Program to further its aim of spreading awareness, vaccination drives, first aid medical facilities etc. through professional veterinary doctors.
Cattle Rehabilitation Program: The multi-faceted program involves donating rehabilitated cattle to poor farmers for the purpose of farming, thus even helping over-full panrapoles. In view of the multiple benefits of the program, SRJT proposes to increase rehabilitation through this unique method.
Water-Pot distribution for birds: Around the year, and especially in the scorching summers, numerous birds die of thirst or illness due unavailability of potable water. SRJT distributes, free of cost, specially designed pots which can be put out by good samaritans with potable water for the birds."
Impact:
"Cattle Rehabilitation Programme : Under this programme SRJT is presently rehabilitating male buffaloes. (PADAS) Normally in the cattle industry padas are considered of no use and are taken straight to the slaughter house except for a few kept for breeding purposes. In South Gujarat, the area is muddy and hilly due to which the ox is not effective and since buffaloes have higher resistance to water as compared to ox they are used for cultivation. SRJT has created a transit camp and inhouse Vet team nurtures the health of the male buffoloes saved from slaughter/sources from other animal shelters and rehab them. SRJT has rehabilitated nearly 500 animals, which is having immense benefit for the farmer family as well as the animals. This way we can bring a smile to the faces of a lot of families and can save a lot of animals being slaughters and create space in the shelters which are otherwise filled to capcity.
Some of the benefits are as under:
For Cattle:
Can be of effective use.
Gets a family instead of a animal shelter or slaughter house.
Good treatment and fodder since they are to be used for cultivation.
Gets to live happily for the entire course of their natural life.
For Farmers:
Cattle for farming which they cannot afford otherwise due to high costs.
Gobar of this cattle is used for cooking, as a covering in their houses etc.
Easy to maintain since only dry and green fodder is required.
Status symbol is considered by the no of cattle in the family.
Improves standard of living as income rises. "
Page Url :
http://www.unitedwaymumbai.org/ngo241_srjt.htm
Online donations are now closed for SCMM'13'
Founded Year:
2004
Cause category: Environment & Animal Protection
Our Supporters
You can raise funds by placing this donation widget on your web page or blog. Please click on the image.