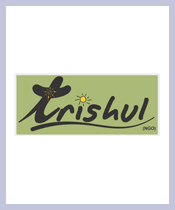 Trishul
602, God's Gift Tower, Yari Road, Andheri West, Mumbai, India, 400061
Email: LOPA@TRISHUL-NGO.ORG
Website: WWW.TRISHUL-NGO.ORG

Charity Bib Status: Sold out

About NGO:
Trishul support and work with economically weaker sections of the society. Following are our areas of intervention in various slums:
Datak Vasti (Slum Adoption and Development Project - Mumbai).
Learning Centre (Education for Slum Children - Mumbai).
Health and Hygiene.
Adult Education.
Environment and Conservation Projects.
Disaster Management
Fund Usage:
TRISHUL LEARNING CENTRE Our Learning Centre aims to provide education and impart life skills to less-privileged children, making them more responsible and confident citizens. We intend to include the following areas:
Value Education.
Health and Hygiene.
Mathematics and Science.
Environment Conservation.
English Communication Skills.
Creativity (Art and Craft).
Problem-Solving Skills. Location: Andheri West
Impact:
Sanitation work in adopted slums Trishul has been doing sanitation work in its seven adopted slums as part of the BMC Dastak Vasti Yojana. The work involves daily cleaning of the public areas and drains and collection of grabage, regular fumigation, and creating awareness on sanitation and health. We have also initiated segregating dry and wet waste, and the wet waste is being given for composting. As a result of this ongoing program, sanitation in these slums has improved considerably. Incidences of contagious, water-borne, and air-borne diseases have dropped drastically. Personal hygiene of the residents also has improved.
Page Url :
http://www.unitedwaymumbai.org/ngo233_trishul.htm
Online donations are now closed for SCMM'13'
Founded Year:
1996
Cause category: Livelihood Generation
Telephone: 9821694994, 9821081566
Our Supporters
You can raise funds by placing this donation widget on your web page or blog. Please click on the image.