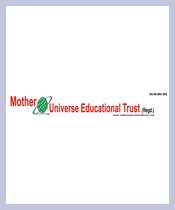 Mother Universe Educational Trust
L-136 Dreams Mall, Lbs Marg, Near Railway Station,bhandup (w), Mumbai, India, 400078
Email: Sujatha.s@mothereducationaltrust.com
Website: www.mothereducationaltrust.com

Charity Bib Status: Sold out

About NGO:
Introduction: Mother Universe Educational Trust is registered organization in 2009 with a Service to humanity is service to God. The organization started working for the good cause of the people, especially the poor who suffer due to uneducated and old age problem and to manage schools, colleges, Professional and technical, institution imparting primary, preprimary, Secondary higher secondary, Graduate and Post Graduate educational in All branches of Arts, Science, Commerce, Agriculture, Law vocation, Politics, Literary, Religion culture, fineArts crafts journalism, Engineering, Medicines and informing technology etc.
Fund Usage:

We are running 'Balwadi' at BMC School Ishwar Nagar Bhandup (W). Soon will be starting remedial classes for Std. I to X.
To maintain manage, conduct, ashram by providing shelter to the needy & deserving girls, women & widows & educate them about small scale industries, cottage industries with a view to earn their livelihood.
To hold eye camp, blood donation camp, & medical camp to provide medicines, ambulance facility &other medical help to the poor, needy & old persons.
Under the banner of "Mother Universe Educational Trust" we are organizing a seminar on"Awareness of Human Rights". To start a home for old age persons viz. Senior citizen & orphanage &/or physically &/or mentally handicapped children. To promote the health of suffering & needy persons by providing medical,surgical& other medical assistance including supply of medicines & other medical, surgical or remedial appliances.

Impact:
Free notebook distribution for 400 pupils of 1st to 10th standard.
Personality Development one day camp under expert's guidance.
Free blood group test of 100 school going children.
Personal Guidance to the individual student attended trusted office for any educational problem.
Daily evening part time dispensary for people of all age groups.
Free eye check camp and free spectacle distribution camp.
Providing computer course.
Page Url :
http://www.unitedwaymumbai.org/ngo225_motheruniversaleducation.htm
Online donations are now closed for SCMM'13'
Founded Year:
2010
Cause category: Education
Telephone: 9029499319/9821455961/022-21661748/49
You can raise funds by placing this donation widget on your web page or blog. Please click on the image.