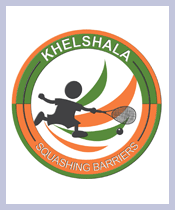 Khel Shala
1815 First Floor Sector 34d, Chandigarh, Uttar Pradesh, India, 160022
Founded Year: 2009
Cause category: Arts Culture & Sports
Telephone: 9356751660
Charity Bib Status:
Not Available
Raised by 11 contributors.


Donations for SCMM 2015 are closed. Thank you.
About NGO:
Khelshala was established in 2009, with a vision to change the lifestyle of underprivileged children in India through excellence in Sport, academics and yoga, one village at a time . By providing opportunity to each child, Khelshala encourages them to pursue their dreams giving them the confidence that it is possible for them to achieve and be successful .Khelshala strives to broaden the horizons of underprivileged children, exposing them to the wonders of education through smart classes and athletics and instilling in them a sense of curiosity about the world and different cultures that has. By providing these children the opportunity, it is hoped that through their excellence academic and outstanding athletic ability, they will be able to receive either athletic or academic scholarships to elite Ivy-League Universities and other institution in the world. As Khelshala has expanded itís presence, it is proud to announce that one of our founder kid has passed the exam of 12th level by scoring 87% in 2014.The second branch of Khelshala in village Majra was established in 2012 and is growing with the same vision.
Fundraisers supporting this NGO:


Fund Usage:

We at Khelshala are proud that our NGO is registered with United Way for the third year. Donations realized from the marathon will be used to expand and consolidate our organization. The funds raised will serve to help us provide competent coaching for our second branch in village Majra, as well as continue providing after school academic tutoring through retaining our professional teachers. It will also be used for general needs such as facility upkeep, equipment for squash/tennis sports that we offer and for host of other basic needs like note books, pens,pencils, yoga mats, rackets, sport clothing etc.
Quite simply the opportunity of raising funds through your support will truly put Khelshala on the road to continue it's work for another year and fulfill it's mission stated above.
Impact:
"This is our first association with United Way, so there is no history of any case study that we can provide.
However, in the 2 years that Khel Shala has been in operation, we are proud to say that children from Khel Shala have achieved great success. One of our girls and one of our boys featured in the finals of the Chandigarh State Open Squash Championships last February and many others reached the second round and quarter final stages of the tournament.
More importantly, during our two years in opreration 2 children lost one parent.
Khel Shala is proud to report that both these children faced hardship, but were able to come through as Khel Shala provided them with some comfort allowing them to escape from the day-to-day life issues at home.
Manjit Singh was able to come through having lost a mother.
Komal Kumari was able to come through having lost her father.
The above moments and successes are what makes Khel Shala a worthwhile project which amkes everyone involved with Khel Shala harder in ensuring it's ongoing mission of "Empoering Children Through Sport" "