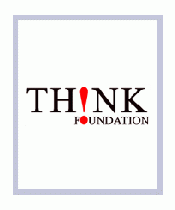 Think Foundation
A-101, Valmiki Apartments, Sunder Nagar, Kalina, Santacruz (east), Mumbai, Maharashtra, India, 400098
Email: vinay@thinkfoundation.org
Website: www.thinkfoundation.org

Charity Bib Status: Sold out

About NGO:
Think Foundation works for the causes of Thalassaemia and Blood Donation. With respect to Thalassaemia, the Foundation has the twin objectives of (a) enhancing the quality of life of thalassaemic children, and (b) preventing the tragedy of Thalassaemia Major.
Apart from organizing daily blood donation drives, Think Foundation has been responsible for opening Thalassaemia Day Care Centres, where children receive free blood transfusions in comfortable surroundings and convenient locations. The Foundation provides support for medicines, tuition fees, workshops and entertainment programmes for thalassaemic children.
On the prevention front, the Foundation runs a structured programme for creating awareness and providing a facility for screening youngsters in colleges. This exercise is also carried out in corporate offices and residential areas.
By organizing daily blood donation drives, maintaining a database of donors, and networking with blood banks, the Foundation provides blood and its components to those in need. Our activities benefit cancer patients, organ transplant patients, renal failure patients, thalassaemic children, surgery cases, women in child birth, and every person who is need of blood.
We have the largest data-base of donors with the rare "Bombay" Blood Group. We have provided this rare blood group to patients all over the country and even abroad.
Fund Usage:
Children suffering from Thalassaemia Major need lifelong blood transfusions for their survival. These blood transfusions, which are vital for thalassaemic children, result in an undesirable build-up of iron. If not disposed off, this will prove fatal for the children. Most families are not able to afford the daily treatment for iron overload, and hence the low life expectancy. The cost of the medicines works out to Rs. 30,000 per annum per child. Think Foundation has identified 200 children from low income families who need this support. The total support required for these 200 children is Rs. 60 lakhs. This support will improve the quality of their lives and increase their life expectancy by atleast 10-15 years. Day Care Centres provide comprehensive treatment to thalassaemic children. For geographical convenience, comfortable environments and individual attention, it is important to open Day Care Centres spread across the city. Think Foundation aims to use the support received from marathon donations : (1)for providing medicines for taking care of the problem of iron overload in thalassaemic children, thereby giving them a fighting chance at survival. (2) for opening new Thalassaemia Day Care Centres. (3) for organizing workshops giving information to thalassaemic children, which deal with different aspects of their treatment.
Impact:

XXXXXX came to our office a little over a year ago. She came from a financially disadvantaged family, and was a single mother of 2 thalassaemic children. Her husband left her after the birth of the second thalassaemic child. With no education, no financial support, XXXXXX had the difficult task of bringing up her children, both of whom need lifelong blood transfusions. Both children, the elder one 11 years old and the younger one 6 years old, had never attended school. Their medical condition indicated that they needed a lot of attention.
Think Foundation has been able to admit both children to school. Various medical tests were carried out on the children, and appropriate steps were taken to address their problems. Arrangements were made to provide daily medicines for taking care of transfusional iron over load for both children. The mother has been provided with financial support for running the household, as well as support for getting proper accommodation. Today, the mother and her children have been able to bring normalcy in their lives.
The city of Mumbai has more than 1300 children suffering from Thalassaemia Major. While the families of all the children struggle to come to terms with the disorder, mentally and financially, atleast 200 families have stories in some way similar to that of XXXXXX. Think Foundation has been able to make a difference to all these families, and hopes to be able to continue to do so.
Page Url :
http://www.unitedwaymumbai.org/ngo190_thinkfoundation.htm
Online donations are now closed for SCMM'13'
Founded Year:
2006
Cause category: Health
Telephone: 91 22 65181341, +91 22 65181343/91 9820146448
Our Supporters
You can raise funds by placing this donation widget on your web page or blog. Please click on the image.