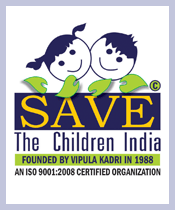 Save The Children India
Sf9, G Block, Next To American School Of Bombay, Bandra Kurla Complex, Bandra (east), Mumbai, Maharashtra, India, 400098
Email: info@savethechildrenindia.org, contactus@savethechildrenindia.org, shivani.sanghavi@savethechildrenindia.org
Website: www.savethechildrenindia.org

Charity Bib Status: Sold out

About NGO:
Save The Children India runs The Special Care Center situated at Bandra-Kurla complex - School for the Mentally Challenged and Hearing Impaired underprivileged children from the slums of Northern Mumbai which imparts educational, vocational and nutrition facilities to more than 255 students.
A BRIEF INTRODUCTION TO OUR OTHER PROJECTS


BALWADIS - Running 150 community based education centres (Balwadis) spread across Mumbai city, and educating 4200 pre-schoolers who are then placed into the municipal schools of their choice.
STUDY CENTER - 116 Comprehensive Study Centers running across 60 sites for remedial teaching programs facilitating education of children

DHVANI - Early Intervention Center for children with speech and hearing impairments through Cochlear Implant Surgery.
SPARSH-A community hospital in the Osmanabad district of Maharashtra.
W.I.S.E- Vocational training programs to adolescent girls of various communities through our 34 centers in Mumbai with the aim of making them self sufficient and economically independent.

S.O.S - A movement called Save Our Sisters, the anti-trafficking campaign initiated to combat sexual exploitation of women and children.

P.R.I.D.E -A rural initiative under P.R.I.D.E India working in more than 150 villages in Mahad, Raigad district of Maharashtra. The work touches every facet of life including education, health care, environment, agriculture, animal husbandry, tribal development, women's co-operatives, community businesses etc.

Water Harvesting and prevention of malnutrition in the Melghat region in the district of Amravati.
Save The Children India, Delhi is working for the development of underprivileged women and children in the area of Sarai Kale Khan.

Fund Usage:

Even while you are reading this around 8 million Indian children are not in school. Today, we take the opportunity to extend our warm invitation to make someone's childhood meaningful by simply reliving your own!
While you walk at the Mumbai Marathon and cover the miles, you also help spread the smiles by sponsoring disabled children from our Special Care Centre School. These children are waiting for a Buddy through whom they will realize their dream of getting Education, Vocational Training, Health Care, Nutritious Meal, Uniforms, Educational Tours & Extra Curricular Activities, Daily Commute to School.
BE A BUDDY by sponsoring a Hearing Impaired Child Rs. 20,000/- for 1 YEAR!
BE A BUDDY by sponsoring a Mentally Challenged Child Rs. 18,000/- for 1 YEAR!
When you sponsor a child through our Buddy Program, you receive:
A picture and the case study of your sponsored child
A quarterly update on activities undertaken
Tax benefits under Section 80G
A chance to meet and celebrate special occasions with the child making you an active partner
"A pair of walking shoes can take a disabled child's destiny places so put your best foot forward for Save The Children India"
Impact:
At the Special Care Centre we believe that complete education cannot just be imparted in class rooms. In order to make the children confident self-reliant and responsible citizens it is important that they learn skills that go beyond the regular school curricula. 19 children cleared their entrance examinations by securing excellent grades giving a huge boost to their self-confidence. Currently these children secured admissions in First year B.A (Bachelors of Arts) at Chetna College, in Bandra.
As the children proceed to complete their formal education they are encouraged to undertake vocation courses that would enable them to earn their own livelihood. This year, 15 students underwent a 3 month Skill Certification Course in hospitality at the Taj Lands End, Mumbai. The course has groomed their personality and has opened doors for students to explore careers in Hotel Industry after they have completed their school education. 33 students from the Hearing Impaired section were admitted to Fr. Agnel Ashram College to pursue advanced diploma courses in plumbing, electrical wiring and carpentry who have appeared for the exams and are awaiting their results. Armed with these skills the students would now be ready to earn their livelihood and face life with renewed vigor.
The Special Care Centre has also undertaken initiatives for its ex-students who haven't been able to find suitable livelihood for themselves. The'Zeeman Vipula Vocational Training Centre' was started in August at the school premises involving the ex-students. This Training Centre has a weaving machine and a loom where the students are trained to make napkins, dusters and various other materials that have a market.
This year the Special Care Centre introduced Grade 10 (SSC) Curriculum for Hearing Impaired students. The first batch of students will be attempting the SSC exam next year. There was also another reason to rejoice when 5 children with hearing impairment from Special Care Centre were integrated to regular schools. Such integration spares the child from being marginalized and allows the scope to develop like a normal child and individual.
Disability has never discouraged the children from participating in various competitions and this year it was no different. On an International World Disabled Day children from the Special Care Centre participated and won several gold, silver and bronze medals making the parents and the school proud of them.
Case Study
Case Study - Arzoo Banu Haider Ansari
Arzoo, possessing hearing difficulty, studied in the Hearing Impaired section of Special Care Centre. Her father being a tailor dreamed to educate Arzoo and hence enrolled her into our school. After Arzoo started attending our school regularly, we realized she had a good grasping power and was extremely intelligent at academics. Since our Special Care Centre enrolls about 10 - 15 students per class and special attention is given to each child. With the regular auditory training she learned to pronounce words and sentences quickly which built her confidence.
13yrs old Arzoo studied in our Special Care Centre and completed 4 levels in 4 years. She actively participated in many extra-curricular activities which were held at the school.
Seeing her encouragement towards academics, this year, Arzoo was integrated into a formal school in Ghatkopar, where she now continues her education. Our teachers visit her school in intervals to keep a follow up on her progress. She also visits the Special Care Centre for any assistance that is required from our teachers.
We are proud to integrate our students in a formal regular school. The smile and the confident that she exudes is a reward enough for us. Now with formal education, we hope she carves her destiny.
Page Url :
http://www.unitedwaymumbai.org/ngo18_save_the_children.htm
Online donations are now closed for SCMM'13'