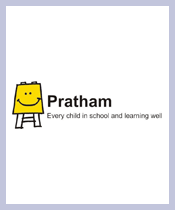 Pratham Education Foundation
4th Floor, Y.b Chavan Centre, Gen J Bhosale Marg, Nariman Point, Mumbai, Maharashtra, India, 400021
Email: yashaswini.kumar@pratham.org
Website: www.pratham.org

Charity Bib Status: Sold out

About NGO:
Established in 1994, Pratham is today India's largest non-governmental organization working to provide quality education to the underprivileged children. It has taken its mission of "every child in school and learning well" to over 35 cities and 21 states. Pratham has, at its peak, reached 33 million children through its Read India campaign. Pratham India's work can be broadly divided into four verticals:
1) Read India - The main objective of this program is that every child should be able to read, write, do basic Math and know conversational English.
2) Pratham Council for Vulnerable Children (PCVC) - PCVC rescues vulnerable and out-of-school children and gives them a new life by providing them residential shelters and education
3) Annual Status of Education Report (ASER) - ASER surveys 700,000 children every year to measure the enrollment as well as the reading and arithmetic levels of children in the age group of 6-14 years.
4) Pratham Institute - Pratham Institute gives underprivileged youth training in industry specific courses, thereby making them more employable.
In 2011, Pratham was awarded 'The Most Committed NGO of the Year Working for Young Children and Their Education' by the 'Early Childhood Association-India' (ECA) and it also won the 2011 Skoll Award for Social Entrepreneurship.
Fund Usage:

The proceeds from the marathon would be used to fund Pratham's vocation skilling program. This program was started in 2005 and is targeted at the economically disadvantaged youth in the 18-30 year age group. India has a large percentage of youth who have not been able to complete their formal education and also do not have the required vocational skills to be gainfully employed.
Pratham's Skills Training Program tries to 1) Train youth in market relevant skills such as banking, agriculture, hospitality etc. and 2) Help them start their own businesses.
Over 3500 youth have been trained. Pratham has partnered with Larsen & Turbo to provide training in the construction industry, with Taj Hotels to provide training in the hospitality industry, with Godrej Agrovet to provide training in Agriculture, with Deutsche Bank to provide training in Banking and Financial Services and is about to start a partnership with Landmark Group to provide Retail Training. Training is also given to youth who are in conflict with the law and are in prisons.
Impact:
Bherulal Kapaya, a 25 year old farmer from Rajasthan, successfully completed training in hospitality from the Pratham Arora Centre of Excellence (PACE), Udaipur. His journey, from being a farmer to a trained hospitality professional in a luxury hotel, is quite remarkable.
Bherulal never thought he could ever make it big in life, nor did his mother and father. He discontinued his education after the 8th grade to support his family. However, the income generated from farming was too meager to support them. He then heard about the PACE program from a Pratham volunteer and signed up for it.
The initial days at PACE centre were difficult for him. He found the course odd and the English language hard to comprehend. Bherulal decided to stay on, go through the grill and polish his skills.
After completion of the course, Bherulal was hired as a trainee by the Taj Group and was placed at the prestigious Lake Palace Hotel in Udaipur. He now works in Taj's Housekeeping Department. His fortunes have changed for the better. With this new job and a soaring confidence, he certainly feels sky is the limit!
Page Url :
http://www.unitedwaymumbai.org/ngo184_pratham.htm
Online donations are now closed for SCMM'13'
Founded Year:
1994
Cause category: Education
Our Supporters
You can raise funds by placing this donation widget on your web page or blog. Please click on the image.