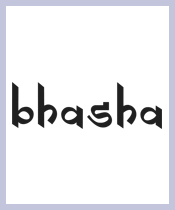 Bhasha Research and Publication Centre
37, Shreenathdham Duplex, Behind Dinesh Mills, Opp. Shrinagar Society, Vadodara, Gujarat, India, 390007
Email: vipul_bhasha@yahoo.co.in
Website: www.bhasharesearch.org.in

Charity Bib Status: Sold out

About NGO:
Bhasha Trust was founded in 1996 for study, documentation and conservation of languages not protected by the Constitution of India. The organization works at present in Gujarat, Maharashtra, Madhya Pradesh and Himachal Pradesh.The major areas of work of Bhasha have been conservation and promotion of minority languages, education, healthcare and empowerment of Adivasi communities in India, protection of human rights of the Denotified and Nomadic Tribes (DNTs), study and development of Adivasi arts, and policy level interventions in the interest of ecology, human rights and Adivasi empowerment. The objectives of the Bhasha Trust are:
1. To undertake documentation of linguistic, literary and artistic heritage of adivasi communities in India and to publish documented materials.
2. To collaborate with national academies of art and literature and research institutes engaged in the art of adivasi related imaginative activity for the purpose of undertaking or encouraging research in adivasi art and literature.
3. To establish a national level Adivasi Training Academy for the promotion of adivasi languages, literature, arts and culture with a view to initiating formal education in the area of conservation of adivasi imagination.
4. To undertake activities related to social and economic development of adivasi communities
5. To stimulate and create awareness among citizens for the preservation of adivasi languages, art and imaginative life of adivasi communities. It is recognized by the Ministry of Tribal Affairs, Government of India, as a Centre of Excellence.
Fund Usage:

Bhasha Research and Publication Centre has initiated work related to education, health awareness, food security, women empowerment, organic agriculture, vermicompost, green economic zone, documentation of tribal art and culture, conservation and preparation of digital map of tribal songs and music of Gujarat, and linguistic survey of India in which Bhasha is doing documentation of non-schedule languages of India and working in every states of India. Bhasha Centre will use the fund raised from this activity in different types of initiatives by which we can make tribal communities self-reliance, self sufficient and can make them aware about the preservation of tribal arts, culture, music, songs, languages and many more.
Impact:
The Peoples Linguistic Survey of India is a nationwide survey on existing languages across India, which seeks to answer the question 'How many living languages does India have?'
The PLSI will map languages around India with the help of the speech communities themselves and with a team of linguists. This work is being carried out through a series of workshops throughout the country which bring together scholars and cultural activists to complete surveys on up to eight hundred languages.
The Format of the Survey includes the following information for every language, except the Languages Included in the 8th Schedule of the Indian Constitution: Name of the Language, Brief History, Geographical Map of the Region Where the Language is Spoken, A Short Bibliography, Sample Oral Songs with Translation, Sample Oral Stories with Translation, Colour terms, Relational Terms, Terms for Time and Space.
Once the survey has been completed the results will be classified and made available for general reference. The PLSI will be published in 21 Volumes in English. 14 volumes in Hindi translation; and 9 volumes pertaining to the respective states-in Indian languages (Bangla, Assamiya, Oriya, Telugu, Tamil, Malayalam, Kannada, Marathi and Gujarati).
So far, Bhasha has completed, or nearly completed, the Survey work towards approximately 600 languages.
Page Url :
http://www.unitedwaymumbai.org/ngo16_bhasha_.htm
Online donations are now closed for SCMM'13'
Founded Year:
1996
Cause category: Education
Our Supporters
You can raise funds by placing this donation widget on your web page or blog. Please click on the image.