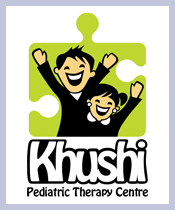 Khushi Pediatric therapy centre
Bungalow No 6, Manju Building, Plot No 287a, Sher - E - Punjab, Andheri (east), Mumbai, Maharashtra, India, 400093
Email: info@khushi.net.in
Website: www.khushi.net.in

Charity Bib Status: Sold out

About NGO:
Khushi Pediatric Therapy Centre, is a registered NGO that works for the cause of improving the life of children with disabilities. From improving the life of a child with celebral palsy, autism, to those with learning disabilities. However, the main cause that we deal with is children with Autism - a disorder of neural development whose cause is unknown. We mainly work with children with Autism and other disorders occurring with autism, eg - Autism and Celebral Palsy, Autism and Mental Retardation, etc. We have been working in this field since the year June 2000.
Our main aim is to reintegrate every child who steps into our centre into the mainstream society and bring lots of "Khushi" in the lives of the diagnosed individual's family.
We also ensure that financial issues won't be a constraint for kids to avail therapy. We arrange sponsorship for the kid through marathon funds or private donors.
Fund Usage:

We require the funds for the sponsoring kids whose financial condition is poor and who can't afford to pay the fees. We don't want any kid should stop therapy just because of non-availability of funds. Thus We mainly wish to sponsor such kids.(Rs. 72,000/- pa for 1 child)
We arrange various workshops by Indian and foreign professionals for the therapist to enhance their knowledge. We wish to use funds received through marathon to use for the workshops and training program. We are also planning to buy therapy equipment and Test material.
Currently in India there are lots of myths and ignorance regarding developmental disabilities. We wish to use the funds for the awareness campaign.
Impact:
Zephan is a five year old boy diagnosed with Autism. A year ago when he had come to us when he was completely nonverbal and didn't understand language. He was also stubborn, didn't listen to anybody and had lots of behavioral problems.
Over the last 3 months, we have seen a lot of progress in Zephan. He used to speak only in words earlier, but not he tries to speak in sentences. He is trying to recall things done in the day - now he remembers distinct events that have taken place and is able to tell what happened. He also reads expressions very well and tries to imitate those expressions, especially when trying to recall through pictures in a book.
He has now started interacting socially, however, he needs to be told to interact and therefore, this needs to be worked upon more. He has just started thinking visualizing and thinking and this is helping in his communication tremendously. Earlier he could not express what he wants, however, now he can express very well what he wants and what he wants to do.
With more therapy, we know he will start speaking more and communicating in many better ways. Now he has started going to normal school since June 2012 which is a big achievement.
Zephan is receiving therapy services from Mumbai Marathon 2012 sponsorship funds.
Page Url :
http://www.unitedwaymumbai.org/ngo160_khushi.htm
Online donations are now closed for SCMM'13'
Founded Year:
2010
Cause category: Disability
Our Supporters
You can raise funds by placing this donation widget on your web page or blog. Please click on the image.