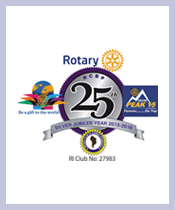 Rotary Club Of Bombay Peninsula
Surya Mahal 4th Floor, 5 Burjorji Bharucha Road, Fort, Mumbai, Maharashtra, India, 400001
Email: anil@meridianchembond.com
Website: www.rotarybombaypeninsula.org

Charity Bib Status: Sold out

About NGO:
Rotary Club of Bombay Peninsula provides fellowship as a platform for community service in the diverse areas of medical, non-medical, vocational, youth, international service. We have supported various causes in participation with NGO like Vatsalya for support & training of destitute street children, Shartul , Sadhana & Nalanda school for support to cerebral palsy children, AURED for hearing impaired, constructed Check Dam, provided solar lights to remote villages, sponsored schools in tribal areas for rural development. We undertook camps for cataract surgery, skin donation awareness, blood donation, medical camps. We propagate Rotary 4-way test and ideals of Mahatma Gandhi. In 2012-13 we have taken up support for Cancer treatment by providing equipments & medicines for cancer treatment at Tata Memorial Hospital and other hospitals, provision of bicycle to girl child, camp for 5,000 cataract surgery.
Fund Usage:

Rotary Club of Bombay Peninsula provides you an opportunity to serve the community by providing free medicines for treatment of cancer in participation with other NGOs. We also support treatment of cancer by providing medical equipments at Tata Memorial Hospital. We believe educating the girl child is a key to country's social progress, for which we are sponsoring bicycle to girl child to continue education. We are also undertaking over 5,000 cataract surgeries this year to provide sight to near-blind people. We continue to support cerebral palsy children through Shartul, Sadhana & Nalanda school.
We believe that educating the masses is the key to national social progress. We support the ISKCON mid-day meal scheme which enables high enrolment, attendance and continuation of studies. We undertake projects for rural development- construction of Check dam for holding run-off rain water, provision of solar lighting to remote villages, sponsor schools in tribal areas.
We invite like minded individuals desirous of serving the community to join us in our efforts. Please do not miss this opportunity to serve the community and donate generously.
Impact:
King George Hospital at Senapati Bapat Marg (Tulsi Pipe Road) provided space to house AURED which worked for the hearing impaired and VATSALYA foundation which provided support & training to destitute street children. These institutions required space to carry out their activities for community service activities. Our Rotary Club of Bombay Peninsula raised funds to refurbish the barracks space and provided continuous support to these two foundations in their activities. Now AURED has one of the best facilities for aural instruction and VATSALYA provides night shelter, food, educational and vocational services to the street children. This has changed thousands of lives over the last 15 years.

Page Url :
http://www.unitedwaymumbai.org/ngo154_rotaryclubbombaypeninsula.htm

Online donations are now closed for SCMM'13'
Founded Year:
1991
Cause category: Social, Civic & Community Development
You can raise funds by placing this donation widget on your web page or blog. Please click on the image.