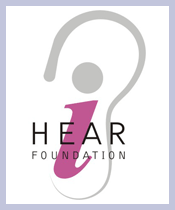 I HEAR FOUNDATION
203, Rajendra Chambers, 19 Nanabhai Lane, Fort, Mumbai, Maharashtra, India, 400001
Email: malupatel@naadcentre.org / info@ihearfoundation.org
Website:

Charity Bib Status: Not available

About NGO:
I Hear Foundation runs various programs:
1. Naad, its early intervention centre is committed to teaching hearing impaired babies to listen, learn and talk so that they can be placed in regular schools and be a part of mainstream life. It offers a comprehensive service in therapy, audiology and counselling. It also conducts parent workshops. These guide and empower, and help build confidence in them as parents and bring fathers in as equal partners in raising children. Naad also has an extensive library which has resulted in improved and expanded language stimulation for the child and his siblings.
2. IHF's newborn hearing screening programme, screens babies to identify those that are at risk for hearing loss. This facility is now offered at 2 hospitals in Mumbai.
3. IHF's Teacher Training Course in Auditory-Verbal Therapy for is currently in its 2nd year. It is a 1 year training course for teachers of the deaf and speech & language pathologists. IHF's course has been certified by the Rehabilitation Council of India and the AG Bell Academy.
4. IHF publication for parents for 2012 is launched with 'Sound Beginnings', a set of 2 manuals and 1 DVD. This is for parents whose children have a hearing loss but cannot immediately avail of early intervention services on a regular basis.
5. IHF's Speech-Language Pathology Department will commence August 2012. It is for children (birth to 18 years) with speech-language difficulties.
Fund Usage:

Screening babies for hearing at birth is the accepted standard of practice in the developed nations of the world. I Hear Foundation is committed to offering these best practices even though on a smaller scale, given its current size. Currently, I Hear Foundation conducts newborn screening free of cost at Masina Hospital and Noor Hospital in Mumbai, screening at least 80 newborns per month. IHF has screened over 500 newborns to date.
Contributions from the Marathon will fund the purchase of a second screener: The Natus Echo-Screen Hearing Screener TEOAE, DPOAE AND AABR set, so that IHF's screening service may be extended to screen more newborns in more hospital centres in Mumbai. These results will then be tabulated and presented at conferences, spreading awareness of the need for and benefits of early referral.
Impact:
Manas Madbhavi began attending I Hear Foundation's early intervention service Naad from the age of 1;5 years months with his parents.
Manas was born with a profound hearing loss and several additional difficulties that included difficulties with vision and delayed motoric development. His mother had to quit her job in order to take Manas to all his weekly therapies. Manas was cochlear implanted at the age of 2;0 years. As a result of the commitment of both his parents and guidance from the team at I Hear Foundation, Manas today is a chatterer like any other three year old! He runs and jumps, sings songs and loves listening to stories. He attends Udyachal Pre-Primary School where he is in the nursery class. His teacher comment to his parents at Open Day last week was that 'Manas is an asset to the class!'
His mother has returned to work two months ago.
Page Url :
http://www.unitedwaymumbai.org/ngo149_ihf.htm
Online donations are now closed for SCMM'13'
Founded Year:
2003
Cause category: Education
You can raise funds by placing this donation widget on your web page or blog. Please click on the image.