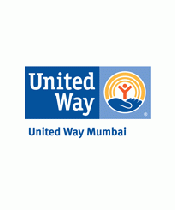 United Way Mumbai Helpline
309, Nirman Kendra, Famous Studio Lane, Dr E. Moses Road, Mahalaxmi Estate, Mumbai 400011, Mumbai, Maharashtra, India, 400013
Email: contact@mumbaihelpline.org
Website: www.mumbaihelpline.org

Charity Bib Status: Sold out

About NGO:
United Way Mumbai Helpline (UWMH) a special initiative of United Way of Mumbai strives to improve the state of environmental concerns, civic issues and the state of community based disaster preparedness in Mumbai city through effective public-private partnerships thereby making Mumbai city a better place to live in.
Mission of UWMH is "to bring about significant, visible, measurable and sustainable changes in the state of environment and disaster preparedness in Mumbai City while working on issues such as; water harvesting and conservation, cleanliness, effective waste management, greenery, community based disaster preparedness by instituting a strong and sustainable Citizens Movement across the city". This initiative brings together local civic authorities, citizen groups, college youth, corporates and other stakeholders to address the key issues with maximum community outreach and sustainable impact.
UWMH has taken the pioneering role for various citywide campaigns for better and safer environment by Municipal Corporation of Greater Mumbai (local civic authority) such as;
UWMH has been appointed as the official Third Party Auditors of the Clean- Up Mumbai campaign by Municipal Corporation of Greater Mumbai since November 2007
Citywide campaign for conservation and management of water through effective information-education-communication (IEC) campaigns such as exhibitions on rain water harvesting, facilitate implementation of rain water harvesting models in the city
Youth for A Healthy Mumbai: wherein UWMH mobilizes and trains over 3000 college youth every year to be part of this city wide health campaign against spread of various severe monsoon ailments.

Yuvroshni: A citywide campaign for prevention of Hepatitis infections in Mumbai and New Mumbai regions.
Training of various stakeholder groups in the city such as; college youth, citizens, government officials, hawkers, police, shoe shiners, porters, community groups, etc. in disaster response.

Fund Usage:

The project aims at equipping 5000 citizens in basic disaster response and management from over 50 city colleges, Citizen Groups, Advanced Locality Management groups (ALMs), Community Based Organizations (CBOs) etc. These trainings will cover vital aspects of disasters such as dos and don'ts in times of disasters, basic first aid and life saving skills. In keeping with the public-private partnership model, United Way Mumbai Helpline will also mobilize various public agencies such as Disaster Management Cell of Municipal Corporation of Greater Mumbai and Civil Defense to impart these trainings. Corporate employees will be encouraged to be a part of this exercise.
Impact:
United Way Mumbai Helpline had set up the Mumbai Disaster Response Fund in response to the terror attacks in Mumbai in November 2008 with the objective of long term interventions for improving state of disaster preparedness in Mumbai city. Through this project UWMH reached out to key stakeholders of the city for training and capacity building for better disaster preparedness and response in the city. The impact of this project is as followed:
College Youth: 5741
Citizens: 1000
Government stakeholders such as Police Personnel, BEST personnel, Municipal School Teachers etc: 1000
Shoe-shiners, Porters, Hawkers etc: 300
Training of college youth as Health Educators (Youth for A Healthy Mumbai): 3000
Community Health Volunteers: 323
Total Stakeholders Trained: 11364
Page Url :
http://www.unitedwaymumbai.org/ngo146_uwm.htm
Online donations are now closed for SCMM'13'
Founded Year:
2002
Cause category: Social, Civic & Community Development
Our Supporters
You can raise funds by placing this donation widget on your web page or blog. Please click on the image.