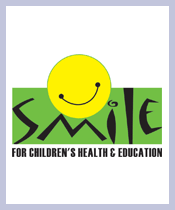 Smile Foundation
102, Sheraton Classic, Ram Mandir Road, Vile Parle (e), Mumbai, Mumbai, Maharashtra, India, 400057
Email: minazwadhwania@gmail.com
Website: www.smilefoundationindia.org

Charity Bib Status: Sold out

About NGO:
Smile Foundation is a national level development organization currently reaching out to more than 200,000 underprivileged children & youth directly through more than 162 welfare projects through initiatives education, healthcare, livelihood, women empowerment, and advocacy across 24 states of India.
Smile Foundation believes in the spirit of partnership and has joined hands with community organization, civic bodies, corporate, educational and development institutions, as well as government to strengthen its cause and ameliorate the situation of underprivileged children and youths in India.
Smile Foundation works in the field of education, health, women empowerment and livelihood through the following programs:
Mission Education: Through this programme we promote and focus on basic education of children from underprivileged section of the society. We have 12,500 beneficiaries.
Smile Twin e- Learning Program: It's an initiative of Smile Foundation which focuses on livelihood training for unemployed youth. Over 11,616 young people are already been trained wherein, 8273 youth have been employed through this programme.
Smile on Wheels: This programme provides primary health care with special focus on women and children urban slums and rural areas. Since its inception in 2006, more than four hundred thousand people have been directly benefitted.
Swabhiman: This is an advocacy program for girl child and women development. The program focuses on providing awareness on reproductive and sexual health issues covering safe motherhood, child health, and family planning.
Fund Usage:

Appeal:
Everyday we run for many reasons. We run for money, we run for success, we run to reach on time, we run for meetings, we run for fun, running never ends. This time let's run to spread smiles and give someone a hope of a better life. This Marathon, Support Smile Foundation and help in spreading education and health.
Smile Foundation is an India NGO working for the underprivileged community by the means of education for children, employability training of youth, innovate healthcare and women empowerment. Through 162 grassroots projects Smile Foundation reaches out to more than 200000 beneficiaries every year. The raised money would be utilized to support the education and health of the children studying at Mission Education centers across India. These centers are based in slums community of rural and urban India and support the education and health of the children from these communities. Mission Education program directly benefits 12500 underprivileged children. The money raised would be support the education of these children.
Impact:
Name: Rekha Mondal
Age: 13 years.
Sex: Female.
Father's Name: Dilip Mondal, Father's Occupation: Mason
Mother's Name: Laxmi Mondal. Mother's Occupation: House Wife.
Address: Vill.- Kalkapur Jardaha, P.O.- South Garia, P.S.- Baruipur, Dist.- South 24- Parganas
Education of child: School - Melia Raicharan Vidyapith. Class- VII
Rekha is a student of Melia Raicharan Vidyapith of Kalikapur in Baruipur Sub-division of South 24 Parganas. She is from a poor and marginalized family of this underdeveloped area where most of the people had migrated from remote regions of Sundarbans. Due to her family condition she was never encouraged to learn her lessons at home. She has struggled both academically and socially in her environment. She required a significant level of support to succeed in school. At Mission Education remedial education center based at Kalikapur, she got the much needed support and guidance from her teachers. After that, she scored good result in her school examination. She is also an active member of the Child Core Group in her area. She is helping and motivating other female children in her area to excel in studies.
Rekhas's ambition is to become a community leader of her area and wishes to serve for the exploited people in her areas.
Page Url :
http://www.unitedwaymumbai.org/ngo142_smile.htm
Online donations are now closed for SCMM'13'
Founded Year:
2002
Cause category: Education
Our Supporters
You can raise funds by placing this donation widget on your web page or blog. Please click on the image.