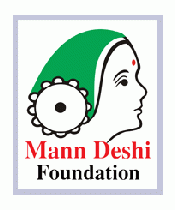 Mann Deshi Foundation
A/p- Mhaswad, Tal. Mann, Dist. Satara, Satara, Maharashtra, India, 415509
Founded Year: 1996
Cause category: Social, Civic & Community Development
Charity Bib Status:
Not Available
About NGO:
Mann Deshi foundation (MDF) is a central-registered NGO. Mann Deshi foundation's mission is to promote the development of poor and vulnerable women and their families in Maharashtra and Karnataka by providing business skills and management training, knowledge on property rights, leadership and personality development, and adoption of new technology.
The general goal of Mann Deshi is the improvement of poor rural women's lives, and in the longer term the eradication of poverty in remote rural areas. This organization's experience has shown that when women control household finances, more money is spent on children, education, healthcare, and other important domestic items. This is why Mann Deshi believes that the financial empowerment of women, along with financial education, business training and knowledge of their rights, will hasten the growth and development of rural India, thereby creating a better life for future generations.
Fund Usage:

Mann Deshi realizes that young girl wants to participate in Sports which is seldom in rural schools. Sports also equip children with confidence particularly girl and help them to dream their career.
To promote sports culture among youth particularly girls Mann Deshi foundation has started "Mann Deshi champions: sports program" in November, 2010. There is no dearth of sporting talent in rural areas but it does not fully realized because of lack of facilities and encouragement.
Our aim is to build national level sports medal winners through providing sports facilities to girls and boys. We have finished building a racing field track for athletics. Mann Deshi has recruited experienced coach to provide expert guidance and coaching. Foundation is organizing daily camp for running practice, jogging and other exercises. Players are also provided nutritious refreshments after practice.
We plan to provide sporting kit, shoes and special training to girls who regularly attend our daily camp. Mann Deshi has also organized summer camp in April. Currently 400 students are getting benefit from this program. Budget for Mann Deshi champion sports program is? 16,50,000/-. For more information http://www.manndeshifoundation.org/champions.html
Impact:
Laxmi lokhande of Mhaswad is a savings account holder at Mann Deshi bank. She also is a beneficiary of Mann Deshi's financial literacy course for rural women. Laxmi is a woman with a big smile and few teeth; who remembers that she was married just as she started to lose her baby teeth. Her competencies lie within the art of making brooms using branches from trees. The assembly of the product is totally manual.
After marriage, Laxmi and her family lived under a shelter made of straw, because of financial issues. Laxmi's husband neither earned any income nor took care of their children. She finally got fed up with her alcoholic husband's lazy behaviour, so she took complete control of the family's finances. She also launched a business based on her caste's traditional work. Laxmi's caste is involved in processing wood fibres from trees and weaving them into thread to make brooms and ropes.
Mann deshi allowed Laxmi to procure raw materials a couple of times until her business cycle stabilized.
Now she hires people to make ropes and brooms for wholesale. Receiving good profit, each week she nets a total of 2000 rupees ($44), without counting her own labour as a cost.
The opening of mann deshi mahila bank in 1997 allowed Laxmi to take larger loans at lower interest to finance her thriving business. Always Laxmi is unique, and has a good reputation and credibility in the market.
The greatest gift to Laxmi is that her grand children are enrolled in university. In addition to financing the education of her entire extended family, Laxmi has also built a house for her daughter and a house for her son. The property papers are in her own and her daughter's name.
On average Laxmi sells goods worth INR 400 (USD 8). She accepts both cash as well as materials (Barter system) as form of payment.
Behind Laxmi's smiling but inquisitive face lie determination, strength, and passion.