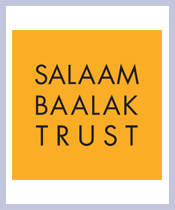 Salaam Baalak Trust
Pt Welfare Center, Asha Sadan Road, Umerkhadi, Mumbai, Maharashtra, India, 400009
Email: info@salaamstreetkids.org
Website: www.salaamstreetkids.org

Charity Bib Status: Not available

About NGO:
Salaam Baalak Trust was first established in 1989 as a direct result of the movie Salaam Bombay! which used the power of cinema to depict the lives of street children. As the film was made with real street children, the film makers saw the potential in these children and created a trust from which programs could be implemented to provide resources and services to street children.
Salaam Baalak Trust, Mumbai provides a holistic safety net of services to cater to the individual needs of street children, covering the entire area of child development encompassing the educational, creative, cognitive, social and vocational needs of children.
Formal and non-formal education at the centers
Creative and recreational programs in art, drama therapy, judo, football, music, dance
Information dissemination via professionals, camps and workshops
Nutrition and medical care with health check-ups, vaccinations and treatment, mental health
Counseling services
Rehabilitation and mainstreaming the youth
We have 4 Centers at - Umerkhadi, Chowpatty, Kalyan and Sholapur. We also have a Careers Project since March 2010 where we partner with businesses to enable vocational training and relatively better employment opportunities for street kids.
Fund Usage:

Salaam Baalak Trust, Mumbai's programmes cover gamut of requirements for the holistic development of a street child. These encompass Education, Nutrition, Medical and Health care, Extra-curricular activities including art, craft, performing arts and sports. Some of our programmes and projects have already found funding yet many have not. The funds collected through the Standard Chartered Mumbai Marathon will be used for these unfunded programmes or projects.
Impact:
A newspaper article by Rashmi Uday Singh on a popular Restaurant in S Mumbai described the good food and the cheerful waiter of the restaurant. In the image was a girl who while now living in a woman's hostel, had been staying at Salaam Baalak Trust, Mumbai, Umerkhadi Center for the last 9 years! The girl had been picked up by us, she was found exhausted and sleeping curled up in a foetal position on the steps of EROS cinema. She woke up and started begging we convinced her to jump into the jeep and took her to our centre. She claimed she could not remember anything about herself. She appeared mentally challenged and traumatised but when she realised she could stay safely at our Girls' Night Shelter she began to relax. She began to attend our Day Center at Umerkhadi and began to dream of going to school, we doubted she could learn but sent her to the Hindi Municipal school.She studied up to 7th Standard, each year she became brighter and smarter until we realised she was not mentally challenged, she had dulled part of her mind in order to cope with mental trauma. We gave her a special mentor to spend time with, counselling sessions with a therapist. Finally she became strong and fearless, insisted she wanted to graduate, live at the Women's Hostel and work at the restaurant.One day I asked her whether she remembered her past. She answered, "Yes didi I do, but sometimes it is best not to remember so that you can move on with your life." And that was the lesson she taught us - things can pull you down but like a phoenix you can rise from the ashes again.


Page Url :
http://www.unitedwaymumbai.org/ngo127_sbt.htm
Online donations are now closed for SCMM'13'
Founded Year:
1989
Cause category: Education
You can raise funds by placing this donation widget on your web page or blog. Please click on the image.