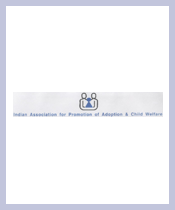 Indian Association For Promotion of Adoption &Child Welfare(IAPA)
7, Kanara House, Mogul Lane, Matunga (west), Mumbai, Maharashtra, India, 400016
Email: iapa@mtnl.net.in
Website: www.iapacw.org.in

Charity Bib Status: Not available

About NGO:
Our mission is to ensure that children in need of care and protection have the option of being taken care of in a family environment through family - based services of adoption, foster family care and family assistance and to reach out to other deprived children who lack of opportunities to pursue education and preparation for life.
Fund Usage:

Medical needs of children.
- Child Guidance Centre
- Life skill and vocational Guidance for adolesant children.
- Personality Development programme for underprivileged children.
- Empowerment Programmes
Impact:
Not Mentioned
Page Url :
http://www.unitedwaymumbai.org/ngo120_iapa.htm
Online donations are now closed for SCMM'13'
Founded Year:
1970
Cause category: Women, Children & Aged
You can raise funds by placing this donation widget on your web page or blog. Please click on the image.