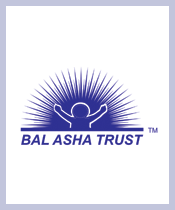 Bal Asha Trust
Bal Asha Trust,anand Niketan Kgvm , Dr. E. Moses Road,mahalaxmi, Mumbai, Maharashtra, India, 400011
Email: balashatrust@gmail.com
Website:

Charity Bib Status: Sold out

About NGO:
Bal Asha Trust a unique, leading and professionally managed voluntary NGO Since 1985. Awarded with Ahilyabai Holkar Award by the Government of Maharashtra. Bal Asha Trust has cared and rehabilitated more than 1250 children.
Bal Asha Trust closely works with Child Welfare Committees for children who are abandoned in public places. Bal Asha Trust is working towards giving quality child care to abandoned and destitute children. The Children's Home has tie ups with top notch hospitals like Jaslok Hospital and other government hospitals offering excellent medical services.
Bal Asha Trust works towards finding Adoptive homes for abandoned and destitute children specially who are older and special needs from all over Maharashtra. Bal Asha Trust has placed many special needs children like blind, cerebral palsy, HIV positive turned negative, Hep. B. carriers, physically challenged in Legal Adoption.
The Trust mission is that not only the needy need to benefit in short term but also long term sustainable basis. Educational Sponsorship to children within families. Clinic offering free medical consultation and organizing medical checkup camps. Tracing families abandoned children staying in other institutions. Education and Training to Child Care Functionaries all over India on Adoption, JJ Act and various child related issues.
Fund Usage:

The money raised will be utilized for Children's Home where destitute and abandoned children are cared and natured for a healthy future. This project impacts more than 70 children throughout the year. The home is licensed but not funded by any Government.
Some of these children are left on the streets of Mumbai or in hospitals by their guardians. The children admitted are often found to be malnourished or suffering from medical problems which need medical and developmental interventions for longer periods. The children receive admission at day 1 in the children's home. The project has infrastructure which provides good nutrition and health care along with overall development inputs from psychologists, occupational therapist and speech therapy. Children receive formal education from schools and participate in extracurricular activities like dance & drama. Bal Asha Trust works on the basic principal of "Best Interest of the child".
Impact:
Reema and Ramesh (both name changed) were found abandoned when they were 15 days old in year 2004 & 2007 respectively. They were found abandoned in public places. The both were suffering from Albinism (complete absence of pigment in the skin, hair and eyes).
They both were admitted in an institution by the Police, but the care takers had no experience in taking care of children with Albinism. A visitor after seeing their plight told them about quality child care given in Bal Asha Trust. The institution contacted Bal Asha Trust and soon the children were our care after legal paperwork in 2008.
Reema after investigations was found to be Hepatitis B carrier and significantly developmentally delayed (40%). Ramesh on testing indicated 57% development delayed. Both the children had speech delays and low eye sight. They did very little activity and virtually did not understand their surroundings.
Bal Asha Trust prepares a individual care plan for every child. They were put on aggressive nutritional and developmental interventions. The Team of Doctors, Psychologist, Speech Therapist, Occupational Therapist, Social Workers, Nurses and Care Takers at Bal Asha Trust gave individual attention to the children. After a year of these interventions we saw significant improvement in the condition of children.
Today, Ramesh has found a loving Adoptive Parents. He is very happy and growing up very well.
Reema although has not found an Adoptive Home and is in the children's home. She is receiving all the love and care. She goes to a regular school and is in 2nd std. She sings poems and dances to bollywood music with her dance teacher in the children's home.
Page Url :
http://www.unitedwaymumbai.org/ngo117_bal_asha.htm
Online donations are now closed for SCMM'13'
Founded Year:
1985
Cause category: Women, Children & Aged
You can raise funds by placing this donation widget on your web page or blog. Please click on the image.